In our office, we offer high quality care and payment options that work for all our patients. Below you will find a list of insurance and payment plans that we accept. If you don't see your preferred method on our list, please call our office to find out what other options may be available to you.
Dental Insurance Plans We Work With:
At Bloomington Oral Surgery we make every effort to provide you with the finest care and the most convenient financial options. To accomplish this we work hand-in-hand with you to maximize your insurance reimbursement for covered procedures.
Aetna
Athem/Unicare/BCBS
Careington Platinum PPO
Cigna Advantage PPO
Delta Dental PPO/Premier
Dentemax
Guardian
Health Resources
Meverest
Metlife
Principal

Medicaid Plans:
Medicaid
Dental Health & Wellness
Caresource
Hoosier Care Connect
Dentequest
Envolve Medicaid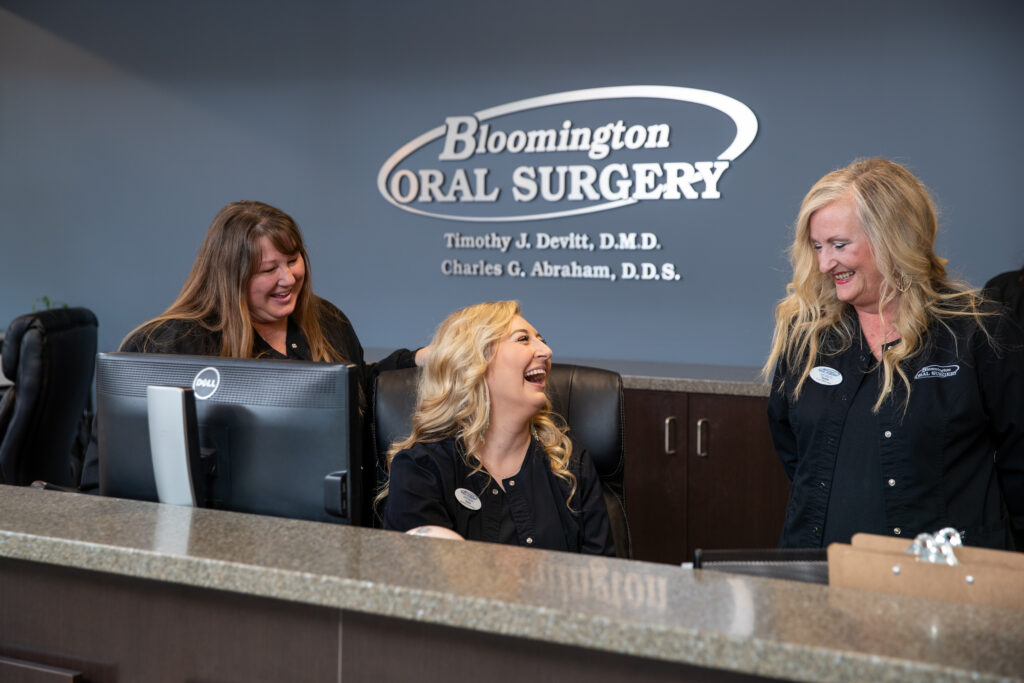 Please note: Payment is due at the time of service.
As a courtesy to you, we will bill your insurance company and track claims. Please keep us informed of any changes to your insurance plan. You are responsible for the fees charged by our office, no matter what your insurance coverage may be. Most insurance companies should respond to the claim within four to six weeks. Any remaining cost is your responsibility.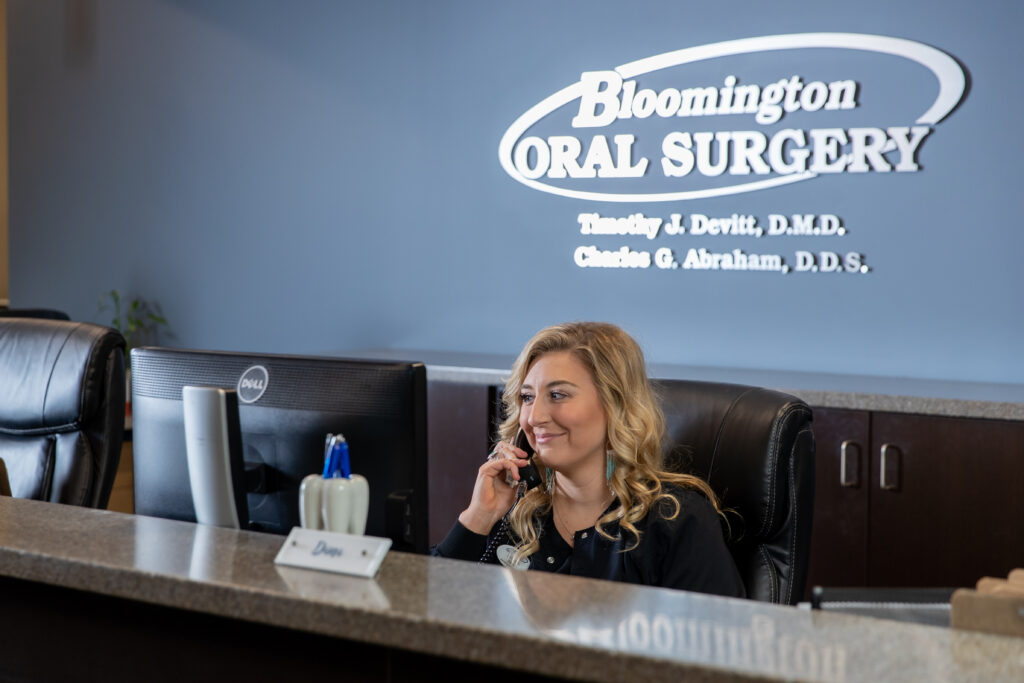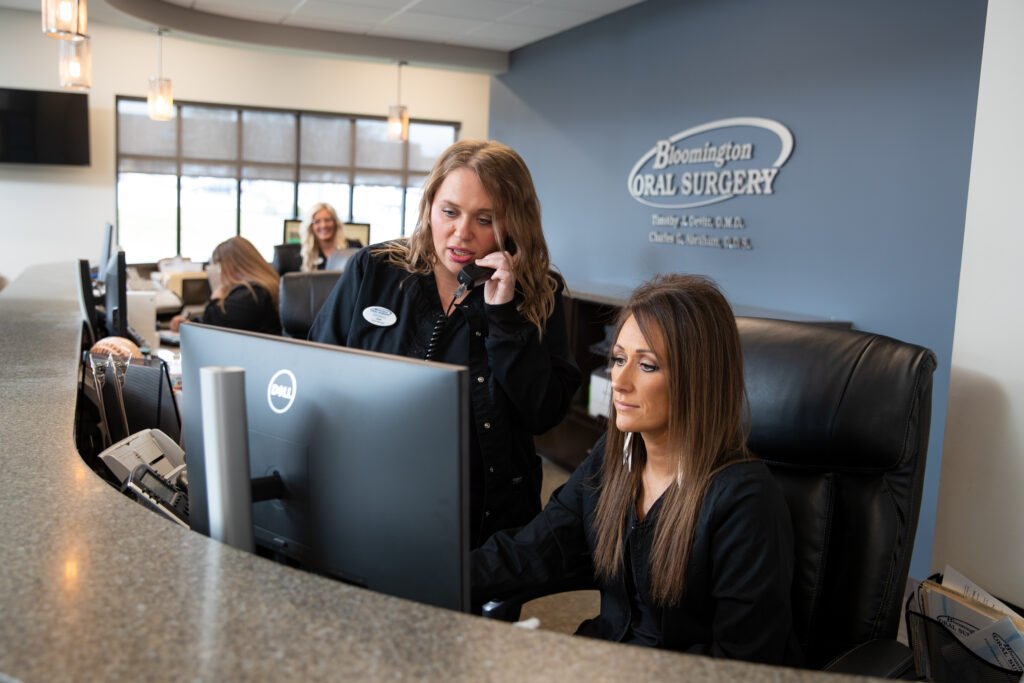 How Dental Insurance Works
By purchasing a dental insurance plan, you enter into a contract with the company. They agree to pay certain amounts for certain procedures and you assume responsibility for what they do not cover. Generally, the terms of your coverage are spelled out in the contract. Different plans approach coverage in different ways. Some require you to reach a deductible before paying anything, while others pay a percentage immediately. Understanding the different terms associated with your insurance plan can help you figure out your coverage.
A deductible is a minimum amount of money you need to pay towards dental care before your plan coverage starts. Most plans do not require a deductible for diagnostic or preventive services.
Many plans have a cap on how much money they will pay for any given treatment during the year. Anything over that amount becomes your responsibility. For example, if your plan has a annual maximum of $2,000 and your dental expenses exceed $3,000, you have to pay the additional $1,000. In some cases, you can raise your annual maximum to better suit your needs. There is usually a separate lifetime maximum for orthodontics.
Some plans have limitations on when they will begin paying for certain complex procedures. For example, many insurance policies will not pay for major procedures until the plan has been in effect for more than 12 months.
If you are confused about your coverage, you can ask our staff to help you. You can also call your insurance provider and ask for an Explanation of Benefits (EOB) which lists the procedures your plan does and does not cover. 
When deciding whether to undergo a certain dental treatment, it is important to consider more than your insurance coverage. The least expensive treatment option may not be the right one for you. Be sure to discuss all aspects of your coverage and treatment plan with your dentist and oral surgeon before making a decision.
We are committed to providing the highest quality care in a comfortable and compassionate environment.
What are others saying about us?
"I was so happy that I went to him to have my teeth done. His office help & him were wonderful. I have anxiety so bad & I have no memory of my procedure. I would definitely recommend him."
"Never liked going to the denist or had surgery of any kind, so I was highly skeptical and honestly afraid. Heard tons of horror stories from friends about how getting their wisdom teeth taken out was painful and terrifying. I called and made an appointment, in which they were very helpful in meeting my busy schedule. I was treated very well and was in and out in about 45 min. and had all four wisdom teeth removed. Slight pain that day, but by the second day almost all pain and discomfort was gone. The Doc made a follow-up call which I found very professional, and overall I would have to say the experience was quite fun. No more wisdom tooth issues!!!!! I highly recommend this office for any denistry needs!!! Thanks Dr. Devitt and the rest of your team!"