If you are missing multiple teeth, have failing dental work, or are ready to have permanent teeth instead of dentures, you may benefit from All-on-4®. This treatment method can restore an entire arch of teeth in a single visit, giving you full functionality along with a natural appearance.
The doctors at Bloomington Oral Surgery specialize in All-on-4® and other advanced treatments. our surgeons have provided care our patients for nearly five decades, and our focus on surgical procedures leads to effective and predictable outcomes.
All-on-4® can transform the smile and bite for patients who have been limited by the health of their teeth. General dentists frequently refer patients to Bloomington Oral Surgery for the procedure when the replacement of the full arch of teeth is a more effective approach than individual tooth replacement. They recommend our practice in part because of our experience performing All-on-4® and the thousands of successful procedures we conduct each year.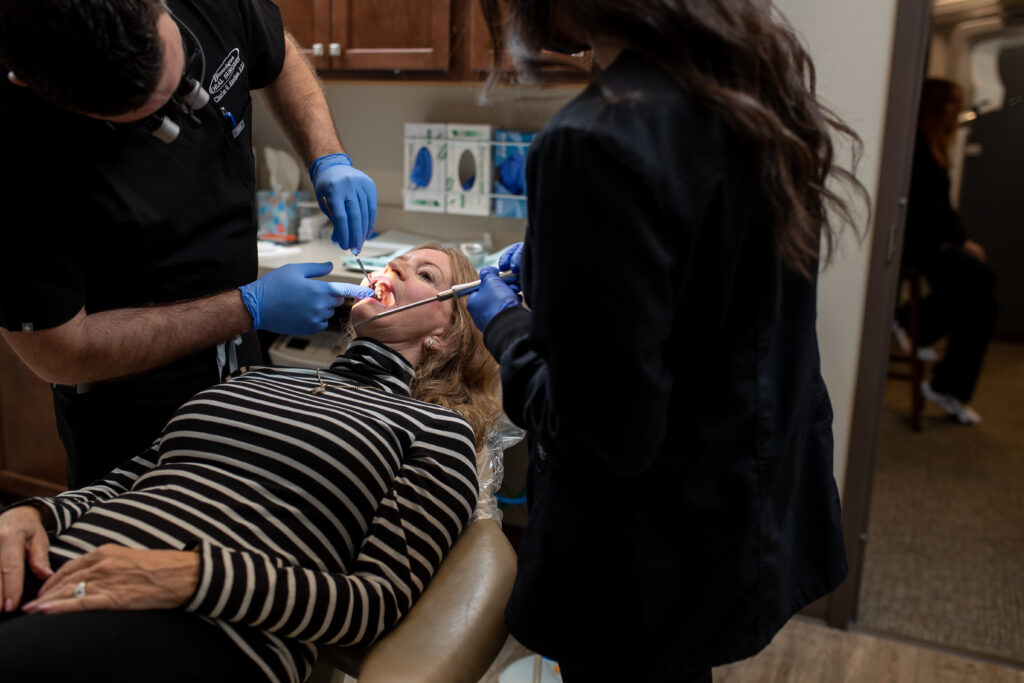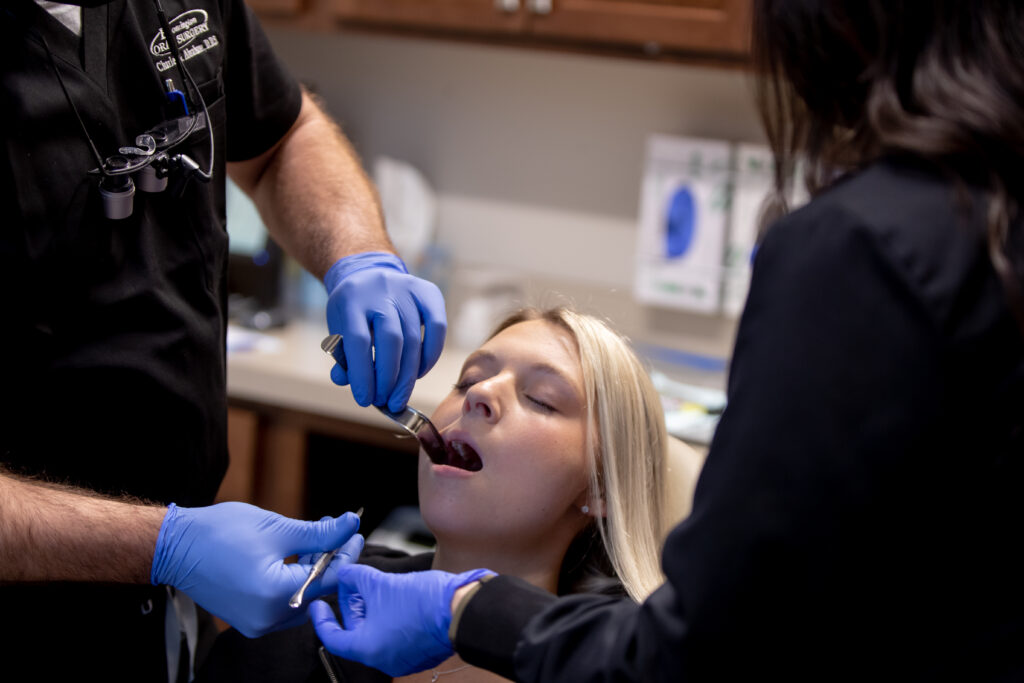 All-on-4® replaces all of your existing teeth with a full restoration. A set of dental implants—man-made tooth roots placed in the gums—secure the new teeth in place. As a result of the procedure, you will have new, permanent teeth that look and work like your original teeth.
The most common reasons  patients choose All-on-4® is that they:
Have lost or require the extraction of multiple teeth
Don't like wearing dentures or can't tolerate them because of gagging and discomfort
Want to get back the appearance and function of their original teeth


Our doctors will secure the teeth in place with 4-6 dental implants in each arch. You won't require an implant for each tooth because of the strategic positioning and angle of the implants. Because the procedure restores the teeth from the roots up, you can use them as you would your own teeth, and unlike dentures, they do not require ongoing maintenance beyond normal oral hygiene.
Bloomington Oral Surgery Approach to All-on-4®
You can schedule an initial consultation with the closest location to learn more about All-on-4®. During your visit, your doctor will conduct an examination and may take X-rays and photos for evaluation purposes. The doctor will assess your needs and prepare a personalized plan for your care.
All-on-4® treatment depends on skill in two separate areas: placing implants and fabricating and attaching replacement teeth. Our surgeons have spent years in practice conducting implant procedures, and their ability to set them securely is what gives the new teeth stability. Similarly, we have unique training in sedation and general anesthesia, which makes dental implant placement comfortable.   
Similarly, a well-crafted set of replacement teeth provides aesthetic value to the outcome. For this reason, we will coordinate your care between our surgeons and your own restorative dentist. Our implant center will handle all of your appointments and provide you with a single point of contact for questions. This coordination will offer you excellent care and greater convenience.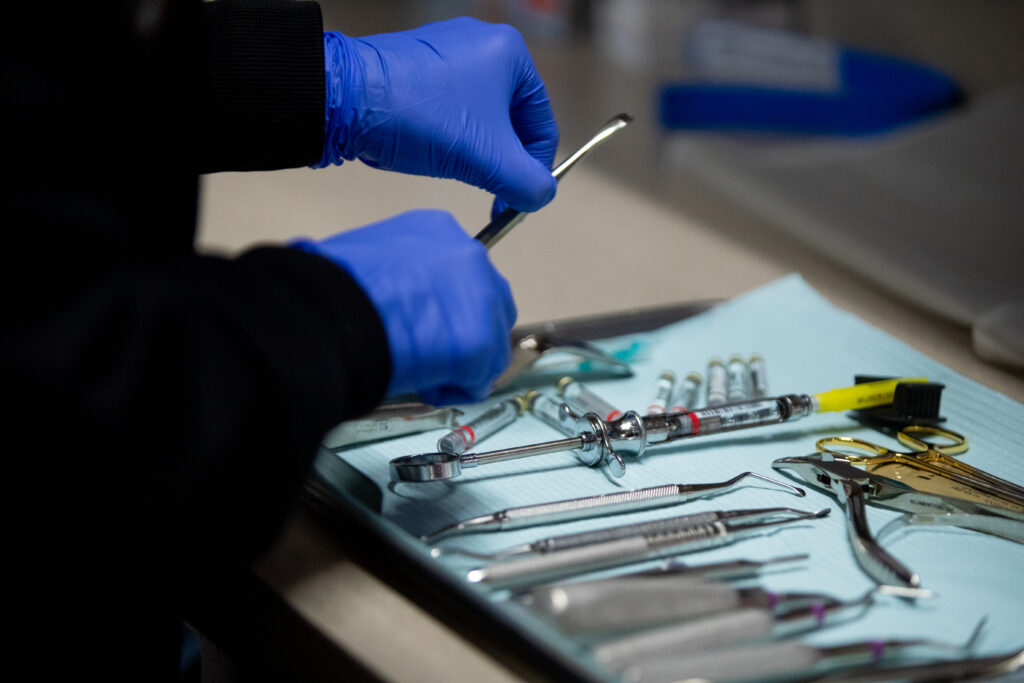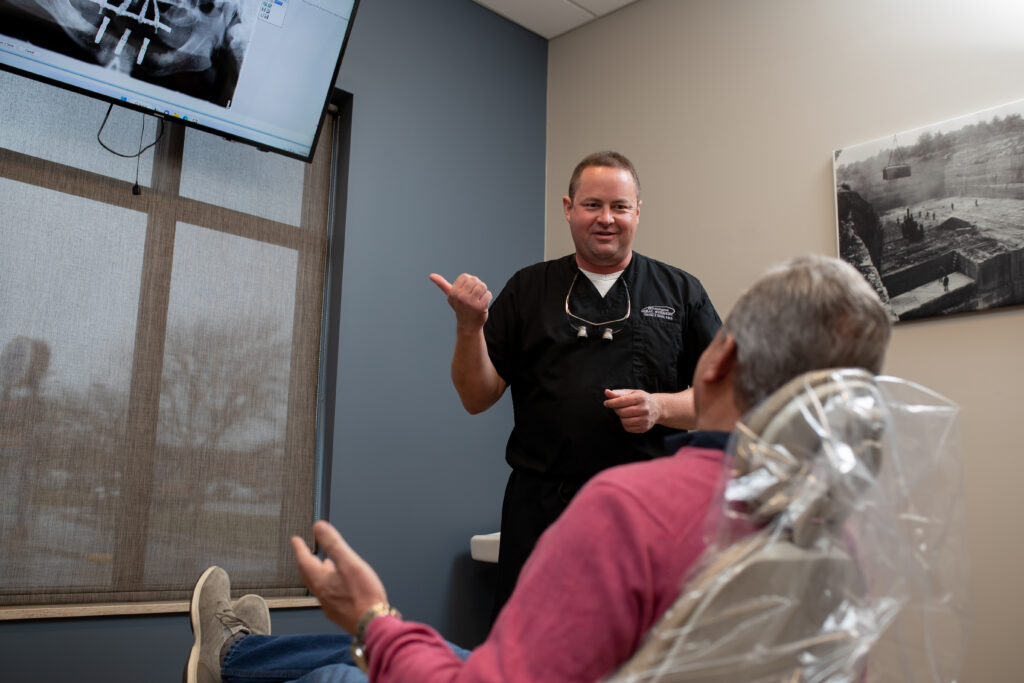 What to Expect with All-on-4®
Once your doctor determines that you are a good candidate for All-on-4®, our practice will use 3D imaging to plan your procedure. This technology will allow the doctor to place the implants precisely and securely, giving you a more aesthetically appealing and durable result.
On the day of the All-on-4® procedure:
Your doctor will extract teeth and restore bone as necessary
The doctor will place the dental implants
Your restorative doctor will be at our office for the surgery. He or she will fit temporary replacement teeth to the implants
Temporary replacement teeth fitted to implants


As a result, everything will happen on the same day with All-on-4®, and you will never have to be without teeth. In a few cases, patients may require more extensive bone grafts to sustain dental implants and may need 4-6 months of healing before a separate implant procedure.
You will have follow-up visits after your All-on-4® procedure at our offices. These checkups will ensure that you are progressing in your recovery. At 12-16 weeks, your doctor will assess the final integration of your implants and take a digital impression. This impression will help the restorative doctor produce your permanent set of teeth. Once the teeth are ready, you will visit the restorative doctor for a final fitting.
Most patients receive a prosthesis that is made of milled titanium, which contributes to lightweight, beautiful, and strong teeth. Unlike dentures, the replacement teeth will not cover the roof of your mouth, so you should not experience gagging or have problems with food becoming trapped. Instead, you can expect a stronger, more aesthetically appealing, and permanent set of teeth.
At Bloomington Oral Surgery, we know how to help you. Our board-certified surgeons and expert staff can provide the care you need to relieve the discomfort you feel.
What are others saying about us?
"I was so happy that I went to him to have my teeth done. His office help & him were wonderful. I have anxiety so bad & I have no memory of my procedure. I would definitely recommend him."
"Never liked going to the denist or had surgery of any kind, so I was highly skeptical and honestly afraid. Heard tons of horror stories from friends about how getting their wisdom teeth taken out was painful and terrifying. I called and made an appointment, in which they were very helpful in meeting my busy schedule. I was treated very well and was in and out in about 45 min. and had all four wisdom teeth removed. Slight pain that day, but by the second day almost all pain and discomfort was gone. The Doc made a follow-up call which I found very professional, and overall I would have to say the experience was quite fun. No more wisdom tooth issues!!!!! I highly recommend this office for any denistry needs!!! Thanks Dr. Devitt and the rest of your team!"