create a better foundation
If you have been told you need a filling or dental crown, you might first require a preparatory procedure called crown lengthening.
It allows your dentist to access decay or create a better foundation for your crown. It may also be recommended before receiving a veneer.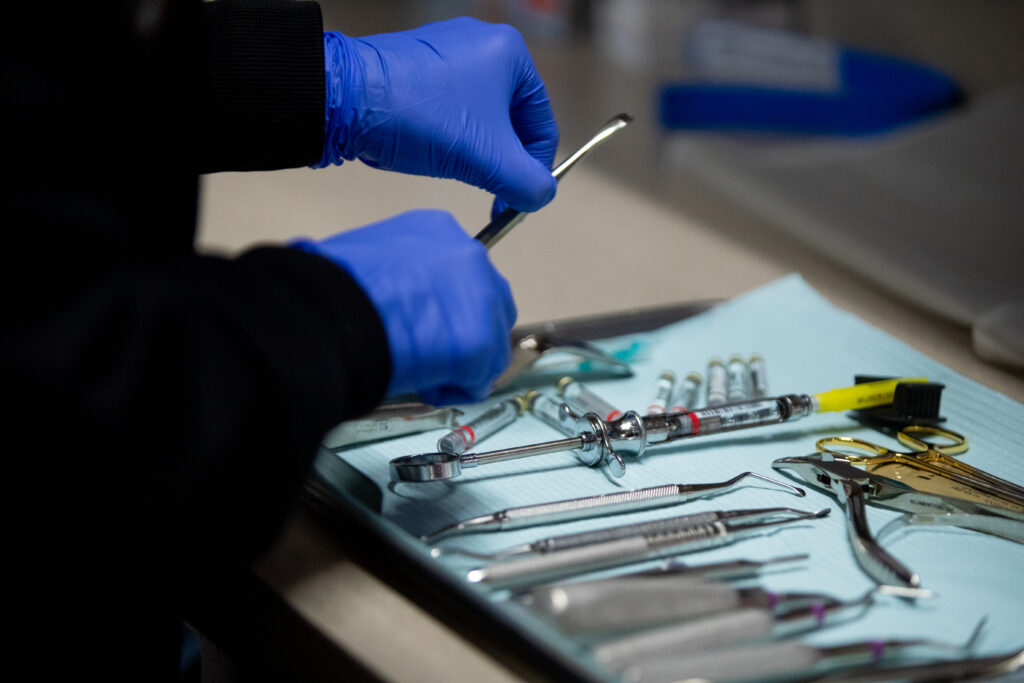 Want to see how the procedure works?
Your oral surgeon will work carefully to preserve as much healthy tissue as possible. We also have dental lasers that allow for highly precise contouring.
Local anesthesia will be used to completely numb the treatment area, and we also offer sedation options.
If a crown does not contact enough dental tissue, it can fail. A poor fit can also result in decay developing under the restoration.
Dentists only recommend this treatment if it is absolutely necessary. Failure to create a proper foundation for a restoration is risky and could result in the need for tooth extraction in the future.
A strong, healthy smile can benefit your confidence and overall health. If you are experiencing any symptoms of tooth decay or other oral health issues, speak to your dentist today.
This procedure removes excess gum tissue from a tooth in preparation for dental restoration. Extensive decay may require crown lengthening in order for the tooth to accommodate a restoration.
Is crown lengthening expensive?
Crown lengthening in preparation for a crown or filling is considered restorative, so at least a portion of the cost is probably covered by your insurance policy. This treatment can also minimize your risk of requiring more costly treatment in the future. However, if crown lengthening is performed in preparation for a porcelain veneer, it is considered cosmetic, and will not qualify for coverage.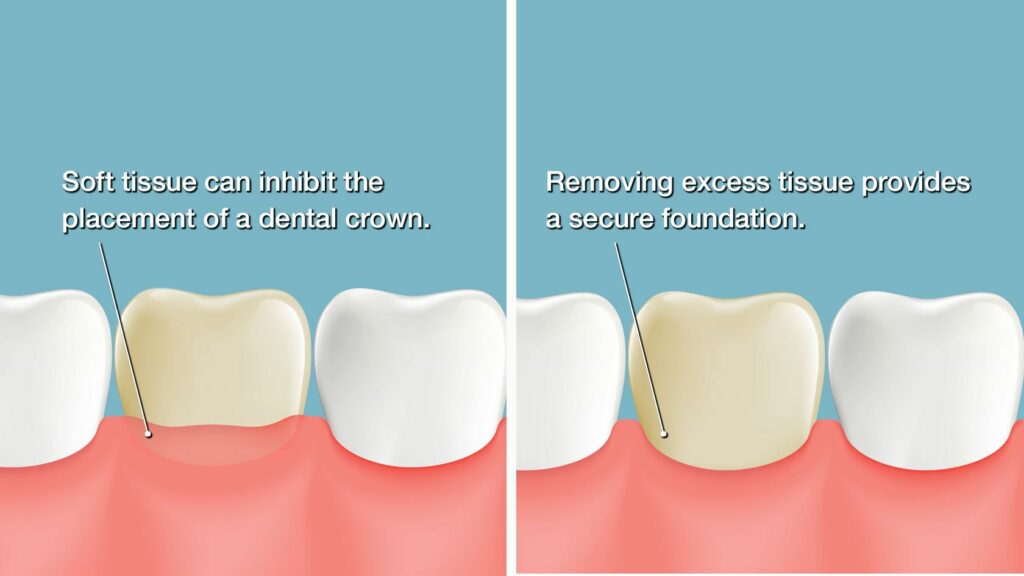 The tooth and surrounding area will be numbed with local anesthesia. If you wear a temporary crown, your surgeon will remove it.
Small amounts of soft tissue (and bone tissue, in some cases) will be removed.
Sutures may be applied to close any incisions. Lasers usually eliminate the need for sutures.
If you wear a temporary crown, it will be placed back onto the tooth.
The gums must heal for about three months.
Once you have fully healed, your filling, permanent crown, or veneer can be placed.
At Bloomington Oral Surgery, we know how to help you. Our board-certified surgeons and expert staff can provide the care you need to relieve the discomfort you feel.
What are others saying about us?
"I was so happy that I went to him to have my teeth done. His office help & him were wonderful. I have anxiety so bad & I have no memory of my procedure. I would definitely recommend him."
"Never liked going to the denist or had surgery of any kind, so I was highly skeptical and honestly afraid. Heard tons of horror stories from friends about how getting their wisdom teeth taken out was painful and terrifying. I called and made an appointment, in which they were very helpful in meeting my busy schedule. I was treated very well and was in and out in about 45 min. and had all four wisdom teeth removed. Slight pain that day, but by the second day almost all pain and discomfort was gone. The Doc made a follow-up call which I found very professional, and overall I would have to say the experience was quite fun. No more wisdom tooth issues!!!!! I highly recommend this office for any denistry needs!!! Thanks Dr. Devitt and the rest of your team!"