There are three main choices for anesthesia. Depending on your procedure and comfort level your oral surgeon will recommend one of the following:
Local Anesthesia

Nitrous Oxide
General Anesthesia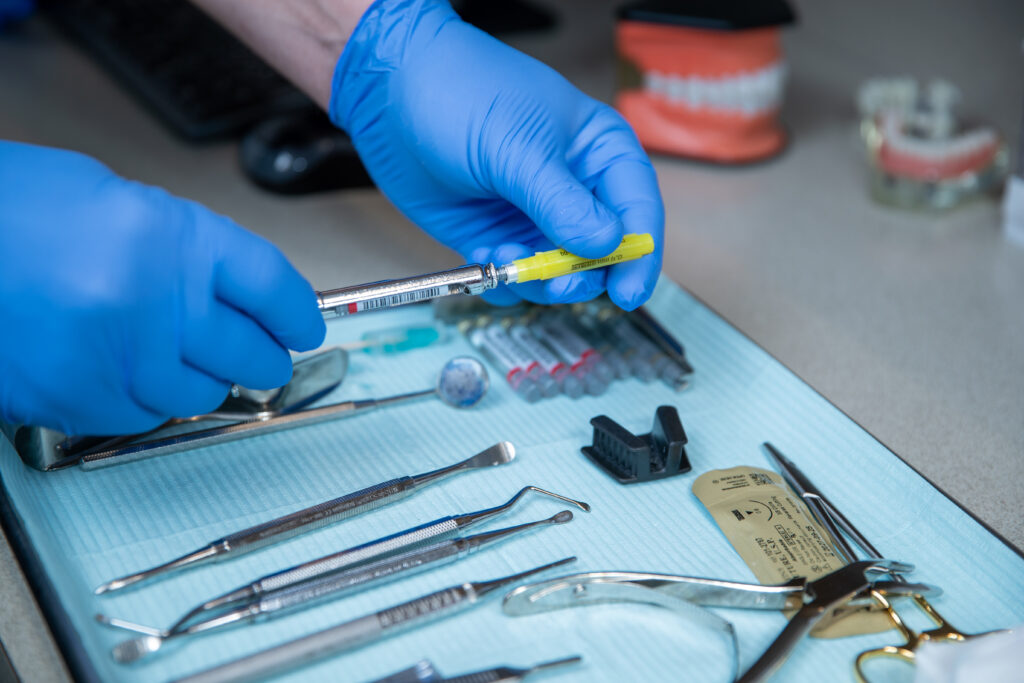 For Patients Receiving IV Sedation
Do NOT eat or drink anything 6 hours prior to the procedure, not even water.  
If you are less than 18 years of age, you MUST have a legal guardian accompany you on the day of surgery. 
Your driver needs to arrive with you to the appointment and stay at the office during the procedure. You will want someone that will also help you pick up prescriptions and take care of you for a couple of hours after surgery. 
You can take any pre-medications that were prescribed to you. We can also provide an antibiotic in the chair if necessary. 
Leave all valuables at home. No cell phones
will be permitted in the surgical suite. 
Local anesthesia is administered by injection at the site of treatment. A topical anesthetic will be placed first to numb the area to help alleviate any discomfort when the injection is given. You will be awake during this type of anesthesia, and through you may feel some pressure and movement, you should not experience any pain. 
Nitrous oxide, or "laughing gas", is the lightest form of sedation. The medication will be administered by breathing through a nasal mask. Nitrous is very short acting and is completely eliminated from the body within minutes after being turned off. This allows the patient the ability to leave the office without an escort because there is no hang-over effect. Although the effects vary from patient to patient, most patients feel that nitrous oxide "just takes the edge off".
General Anesthesia will be administered via an IV in the arm. The effects of the medication given in the IV will put you in a safe, relaxed, and comfortable state throughout your surgery. It is the most effective at reducing awareness and anxiety for dental procedures. You will be asleep throughout the procedure and your medication intake, breathing, heart rate, and blood pressure will be monitored by our surgical team. The medications administered will take approximately 24 hours to leave your body. Therefore, you will not be permitted to drive following the procedure. A responsible driver will need to arrive with you to your appointment and wait at our office until the surgery is finished so they can take you home. 
At Bloomington Oral Surgery, we know how to help you. Our board-certified surgeons and expert staff can provide the care you need to relieve the discomfort you feel.
What are others saying about us?
"I was so happy that I went to him to have my teeth done. His office help & him were wonderful. I have anxiety so bad & I have no memory of my procedure. I would definitely recommend him."
"Never liked going to the denist or had surgery of any kind, so I was highly skeptical and honestly afraid. Heard tons of horror stories from friends about how getting their wisdom teeth taken out was painful and terrifying. I called and made an appointment, in which they were very helpful in meeting my busy schedule. I was treated very well and was in and out in about 45 min. and had all four wisdom teeth removed. Slight pain that day, but by the second day almost all pain and discomfort was gone. The Doc made a follow-up call which I found very professional, and overall I would have to say the experience was quite fun. No more wisdom tooth issues!!!!! I highly recommend this office for any denistry needs!!! Thanks Dr. Devitt and the rest of your team!"